I just finished reading a novel with the intriguing title of
A Guide to the Birds of East Africa
. Its title and size make it look like an actual field guide, but in fact it's a fictional story about a man living in Kenya who happens to love birds and bird-watching.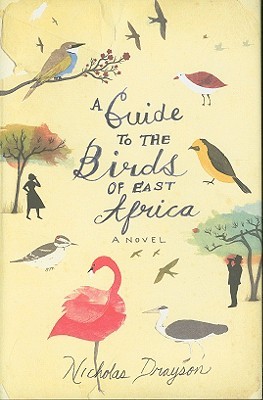 (Book image from Goodreads)
It turns out that Kenya, with over 1,000 species of birds, is a great place to be an ornithologist. Novelist Nicholas Drayson has a wonderful time describing many of the birds that protagonist Mr. Malik spots. He spots a lot of them because he's in a competition with an old school frenemy named Harry. Harry is a wealthy ex-pat who has recently come back to Nairobi for a visit. He decides he likes Rose Mbikwa, the lady who leads the weekly bird-walk at the local museum, and wants to ask her to the annual Hunt Club Ball.
When Mr. Malik overhears this, at his club, he almost despairs, because he is smitten with Rose and has been planning to ask her himself. Rather than put her in the quandary of having to decide between them, the two gents decide to have a bird-watching contest to decide who gets to ask her first/have the right of first refusal. (The other can only ask her if she's turned the winner down.)
The rules for the contest are very specific, as spelled out by three other gentlemen at the club. And it comes down to this: whoever has seen the most species by the end of the week wins.
The reader is set up to sympathize with widower Mr. Malik from the start. Harry, while not precisely a villain, seems light-weight in comparison with Mr. Malik, whom we get to know quite well as the week progresses. Harry is not above enlisting a lot of help and throwing around a lot of money to try to win the contest, but Mr. Malik, who happens to be having a not-very-easy-week (among other thigns, his car gets stolen) is also ambivalent about taking time away from some of the things he does regularly in his everyday life. We begin to realize how important his volunteer work is, both to his own soul and to his local community, and we feel torn with him as he tries to decide the best way to spend his days. The fact that he really seems to be in love with Rose, who is oblivious to the contest being held in her honor, also ups the stakes.
Drayson does a lovely job of painting the vibrant city of Nairobi and other areas of Kenya (since Harry hops some charter planes and heads to various parks). From the sewage area where Mr. Malik spots a lot of his birds to a local village where he finds surprising support on a difficult day, we feel like we get a real glimpse of this culturally diverse area. Most of all, we get multiple glimpses of beautiful birds, most of which I'd never heard of, all of which sound fascinating. Chapter headings include simple line drawings of some of the birds, but I found myself wishing I had a real field guide to East African birds while I read, just so I could see some of them in living color. Drayson does a good job, however, of painting their colors for us in words. It turned out to be a lovely summer-time read with an ending that didn't feel as predictable as you might expect.